Flotilla Location
Flotilla Contact Details
QF3 Redcliffe
1 Thurecht Parade
Scarborough,
Queensland
4020
Australia
Postal Address
PO Box 372
Redcliffe
Queensland
4020
OPEning hours / Radio Monitoring Hours
Weekdays: 0600 - 1800
Weekends: 0400 - 2000
frequencies monitored
27mhz: 88 and 91
VHF: 16, 21,63, 67, 73, 81
HF: All Emergency Channels
call sign
Call Sign: VMR403
Call Sign Name: Coast Guard Redcliffe
Public Education
First Aid: No
CPR: No
Radio License: Yes SROCP & LROCP
flotilla information
Donations
Donations can by made to this flotilla by clicking here
QF3 Courses
QF3 offers the following courses to its volunteers and the general public:
SROCP and LROCP (Radio Licence) course
Both these courses are run throughout the year and are held down at our Coast Guard Redcliffe Base.
SROCP and LROCP: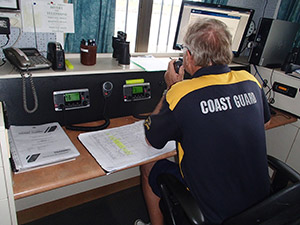 Did you know…
Under federal regulations, you need an operating certificate to use a VHF and HF radio:
•    The Marine Radio Short Range Operator's VHF Certificate of Proficiency (SROCP) is for VHF radio and is the normal certificate for recreational boaties.
•    The Marine Radio Operator's Long Range Certificate of Proficiency (LROCP) is for VHF and MF/HF radio.
Coast Guard Redcliffe runs either a LROCP or SROCP course approximately once every eight weeks down at the Scarborough base which goes all day, starting at 8:00am and finishing around 2:00pm.
Price:
 Depending on which course is undertaken, (Between $160-$200 at this time)
Price includes:
• handbook
• delivery of the course
• examination paper
• scrumptious lunch with nibbles
If you are interested in participating in the next upcoming course please: doug.stewart@coastguard.com.au

QF3 Fundraising
QF3 attends a vast array of locations and events throughout the year selling tickets in small raffles and also providing sausage sizzles at various venues. Coast Guard Redcliffe is made up entirely of volunteers and fundraising is a key part of providing funds to keep QF3 operational 24/7 365 days of the year.
These are some of the annual events we attend: The Redcliffe Show, Kite Fest, Sails Festivals and the Brisbane Boat show.
Any assistance or offers to help with fundraising please contact QF3's fundraising officer via email at: fundraising.qf3@coastguard.com.au